"A work of art is above all an adventure of the mind."
Eugene Ionesco
Artist statement… get to know the artist.
They say an artist needs a mission. I say – making art, is the mission itself.
I do not know why I create – it lays deep within and even though I wonder from time to time why I go through all that pain (by the way, this is why we are called painters ) – it is a need that keeps emerging again and again.
When I paint, I convey no other message than the one from my soul – my thoughts, my feelings, my urges. I dream or feel what needs to be expressed and then I paint and see the outcome.
This can be a battle because I search for ways to reach the correct expression using divers' materials colours, sizes etc.
I experiment until I am satisfied. This is probably why my art is called "experimental" and I like to think that my life is and has been experimental too.
I know my art might not look consistent, pointing to one style only. This is my personality. I am curious, courageous and diverse.
I solve this problem by working by collections.  A different "state of mind" expressed by different means within each collection.
Over the years my style has moved from classic, figurative to something purer and more minimalistic.
I like my art to be categorized as contemporary.
My favourite support is wood and paper, but I do work on canvases as well.
Stay curious and see what is coming next!
Willkommen, schön dass Du da bist !  Ich bin Vinya Cameron, freischaffende Künstlerin aus Köln. Wenn Du mehr über mich erfahren möchten, sieh dich in meiner Galerie um, lies meine Vita oder besuche doch meinem Blog. Viel Spass!
Welcome, nice to see you here! My name is Vinya Cameron, independant Artist living in Cologne. If you would like to know more, see my Artwork Gallery, read my Bio or visit my Blog. Enjoy your stay!
WAS GIBTS NEUES? – WHAT'S NEW?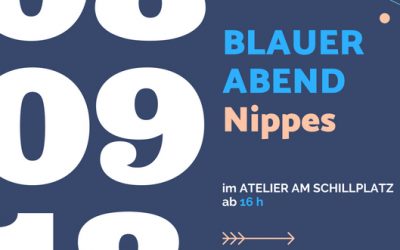 am Samstag, den 08.09.2018 ist es wieder so weit, Nippes feiert den blauen Abend und unser Atelier auch!
mehr lesen